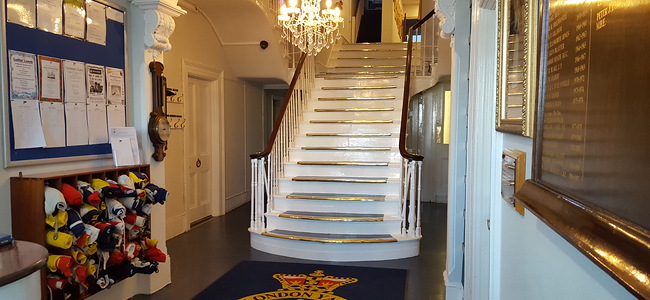 Welcome to the Royal London Yacht Club
The Club is one of the most historic and prestigious Yacht Clubs in Great Britain. The elegant Regency Clubhouse, which has recently been refurbished and upgraded, is situated on The Parade, Cowes, Isle of Wight.

The Club, which is a private Members Club, organises Sailing and Social Events for both Members and Visitors, and provides a high standard of catering.

The Club has gained an enviable reputation for organising top quality Sailing Regattas, including the Charles Stanley Direct Cowes Classic Week, one of the largest regattas that takes place in the Solent each year, the Tempest World Championship in 2016, and the Etchells European and World Championships that took place in September 2016.

Regular sailing and varied social events are organised throughout the year. For Race Entries click on Calendar.
Latest news
We are delighted to welcome Alex Thomson to the Royal London Yacht Club. Alex is one of the worlds most talented offshore yachtsman. Throughout his career he has broken multiple records and continued to cement his reputation as one of the UK's most exciting sporting talents. The youngest skipper ever to win a round the world yacht race, Alex also holds the British solo, unassisted round the world record, which he set earlier this year
Published 1:27pm on 23 Jun 2017
A new committee boat called Cowes United was launched at the weekend from Trinity Landing. The High Sheriff Ben Rouse was part of the celebration. Royal London member David Franks donated Cowes United and wishes it to be used by all the Clubs in Cowes. He has asked RLYC to manage the committee boat. It has been fully kitted out and has the backing of CCCA.
Published 12:43pm on 17 May 2017
Upcoming events
Jun

23

Join the Ladies for lunch at RLYC for 2 courses.

Jun

23

Meeting will start at 1530

Jun

23

June

24-25

Committee Boat team for 2 day National Championship windward -

Jun

30

Join the Gentleman for lunch at RLYC for 2 courses.

Jul

1

Jul

7

July

8-9

Committee Boat team with mark-layers for another weekend of Etchells

Jul

14

Join the Ladies for lunch at RLYC for 2 courses.

Jul

14